The Reluctant Umpire is a treatise on how to umpire a cricket match; survive your team mates, and not lose your friends, with a foreword by David "Bumble" Lloyd.
"In the whole world of jurisprudence, cricket is the one instance where the Appeal comes first and the Verdict second – and the Verdict is final!!"
Only £9.99 plus + £1.00 Postage and Packaging . All proceeds will go to The Club Cricket Charity.
The Club Cricket Charity, in its sales of product or services, does not have a policy of refunding donations nor does it allow cancellation of any order.
The Club Cricket Charity guarantees that any product purchased through the website will be despatched within 14 days of receipt of order.
Go to your shopping cart on the right hand side to complete your purchase.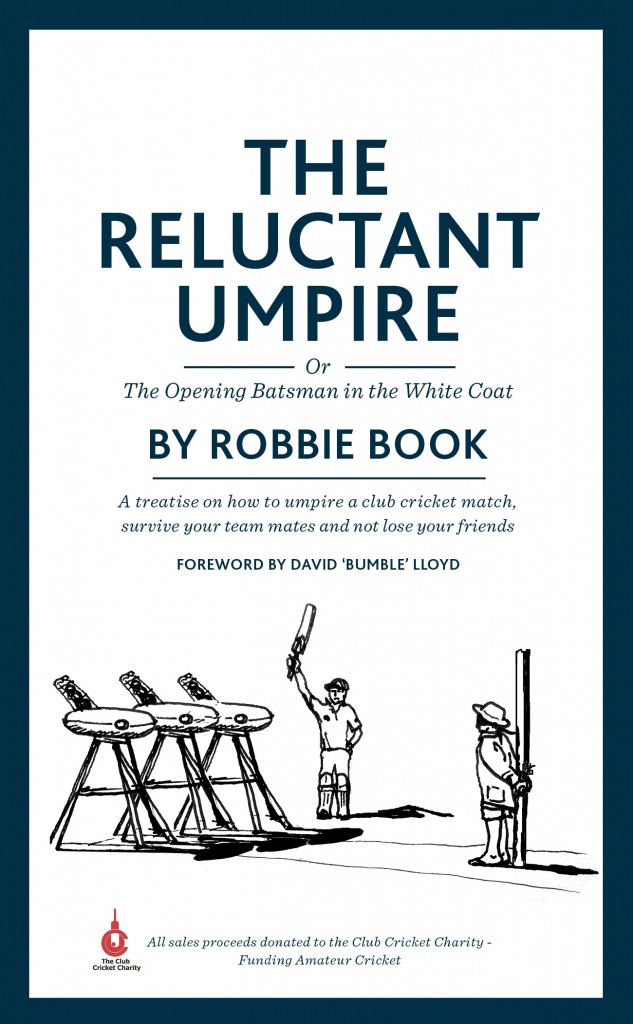 Covering such contentious issues as when to give your captain out, multiple runners and leg-side strangles, The Reluctant Umpire focuses on Alan, a guy who just wants to open the batting on a Sunday afternoon and forget the week's troubles. Given Out LBW first ball by team-mate Dave, all Alan wants to do is soak his head and walk quietly round the boundary – but no – Skipper Clive gives the instruction, "Could you do a bit of Umpiring Old Chap!"
A "Must Read" for anyone who might think they will get away with not umpiring – you won't! – and for all who think they know how to walk the thin line between knowledge of the laws of the game and retaining your friends – you don't!
"The funniest things I've seen on a cricket pitch come from players interacting with umpires – it's that spirit that is wonderfully celebrated in these pages".  (David Lloyd AKA Bumble)
"We've all been there!  The last thing we want to do is umpire and we are certainly not in the right frame of mind.  This little gem lets us know how to survive and smile through!"  Alf Langley ( Chairman, The Club Cricket Conference)
"My son is a very good umpire!"  Mrs G Book (author's Mother)

Notes on the Author
With over 50 years' experience of Reluctant Umpiring, Robbie Book recognised the need for a simple guide to help fellow sufferers survive the pressures and potential ignominy of a simple weekend's cricket.
A big spinner of the ball in his youth, and useful number 11 bat, Robbie's passion for the game has never diminished.  Playing for his Old Boys, various nomadic teams, development sides in Uganda, and for the longest time at the lower levels of Totteridge Cricket Club in North London, Robbie has a record of poor umpiring decisions which leaves him amazed at the number of people who he can still call friends.
Supported by his wife ( the only woman banned from doing teas for overfilling the sandwiches! ) and two sons ( both better players than he! ) Robbie has thankfully left the playing arena and is now a Trustee of Totteridge Millhillians Cricket Club, a Director of The Club Cricket Conference, and Chairman of the Board of Trustees of its charitable arm, The Club Cricket Charity, to which all proceeds of this publication will be donated.
Robbie would like to thank All Out Cricket Magazine and Trinorth Limited for their help and encouragement,  and David "Bumble" Lloyd for his kind words.